VW T5.1 Fog Lights Retrofit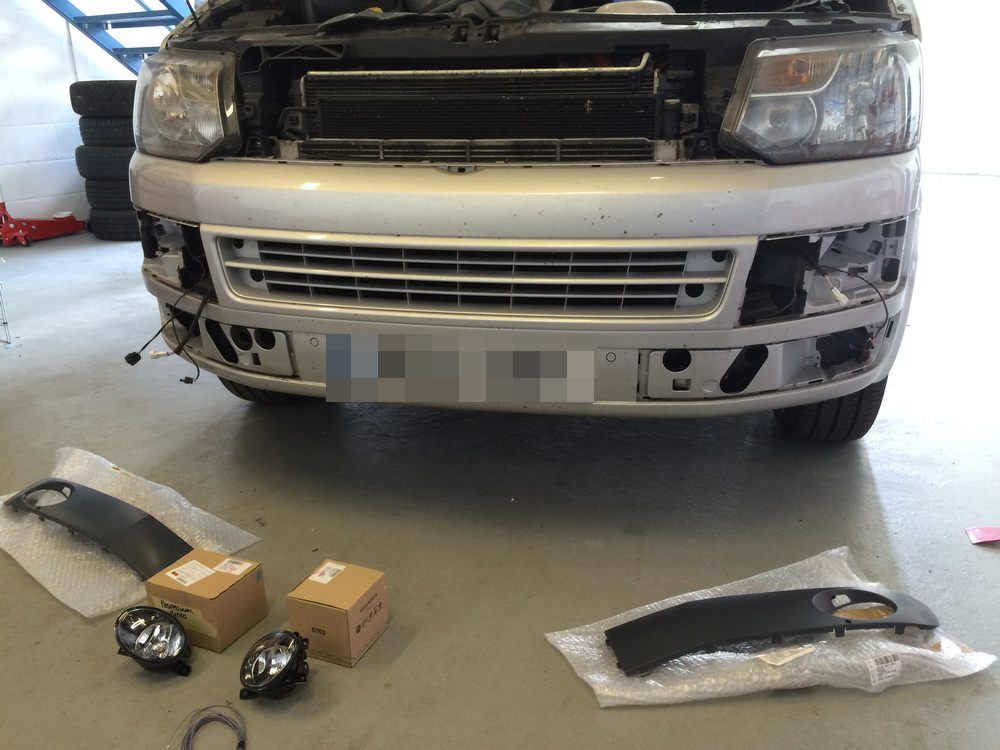 Fog Lights Retrofit  VW T5.1 GP
Let us talk about the front fog lights retrofit. It may be confusing for you as you've probably saw many kits online. Some cheaper than others. But there is a difference with these
Most of the ebay kits are cheap chines copies that come with an wiring harness and RELAY, those will be fine, these fogs will work as intended if fitted correctly. The RELAY will pull in and will switch them on when you turn the light switch to FOG position. With these kits there is no need to connect to vehicle modules and no need to program anything. The kit is plug and play but the quality of some of the components used can be very poor.  
However this is not the way VW does it, VW factory fitted fog lights come with the cornering lights feature, and are wired via Body Control module (BCM) not a RELAY. The cornering lights feature activates one of the fogs when steering wheel is turned to one side (Left or right) and will turn off when driving straight. (The low beam headlights need to be on for this). The fog lights will switch off when you select revers gear. The only way to achieve all that is to have your fog lights connected via BCM. 
How it works? When you turn the light switch to FOG position, BCM receives 12v signal on pin number X, than it will activate both fog lights, when you put reverse on, BCM will recognize it and it will turn the fogs off, when you have your headlights on light and you take a left or right turn, again the BCM will recognize this and it will turn the left or right fog light on accordingly. Cornering lights are actually very useful feature as with a left turn you'll light up the edges of the road more and with a right turn you'll be lighting up the centre. You'll be able to see more in the darker hours and others will be able to see you more. 
Please note; This retrofit is only available for vehicles with the correct BCM fitted.
VW T5.1 OEM VW FOGS + Cornering lights feature fitted £476 + VAT
VW T5.1 FOGS fitting only £160+vat
To arrange an installation please click on the contact us button and follow the instructions
You are welcome to stay in our waiting area, where we have free Wi-Fi connectivity, Smart TV , range of magazines, workshop viewing area and hot drinks.
Installation takes approx. 2h
We can supply our OEM VW kit or you can bring your own and we can fit it for you. 
PLEASE NOTE, WE DON NOT PAINT THE FOG TRIMS, THIS WILL HAVE TO BE SORTED BY YOURSELF. 
HERE IS HOW TO CHECK YOUR BCM PART NUMBER:
CLICK ME 🙂