Automatic Electric Side Steps
We are pleased to offer the Automatic Electric Side Steps for VW vans and Trucks 
Enhance the look of your VW Van or Truck with these very stylish automatic electric side steps when is in use or neatly folded away.
The running boards automatically open and close with the corresponding door being opened/closed. They do look very impressive in daily use. The aluminium running boards are load rated and support unto 300Kg so be assured they'll last.
Prevents Damage To Side Boards
Conventional fixed steps are normally very prone to irreparable damage over rough terrain. Due to the fact they neatly fold away you avoid the damage you'd sometimes encounter with the fixed variety of side steps. 
Greatly Improves Access To Vehicle
The Stylishly designed Pegasus Side Step will deploy on the opening of any door. The running boards are wider and with a sure foot gripping which makes entering and leaving easier especially for the younger/older and less able. Ease of access makes it simple to clean your roof or load items onto your roof rails. Another bonus is unlike conventional fixed side bars you avoid catching your legs or slipping.
Lightweight Aluminium Running Boards Extremely Strong with a 300kg Pay Load
Made from lightweight aluminium and very strong. Will support 300KG human weight. Quality assured and Branded "Pegasus". Pegasus Designs, Manufactures and only sells its own exclusive quality products.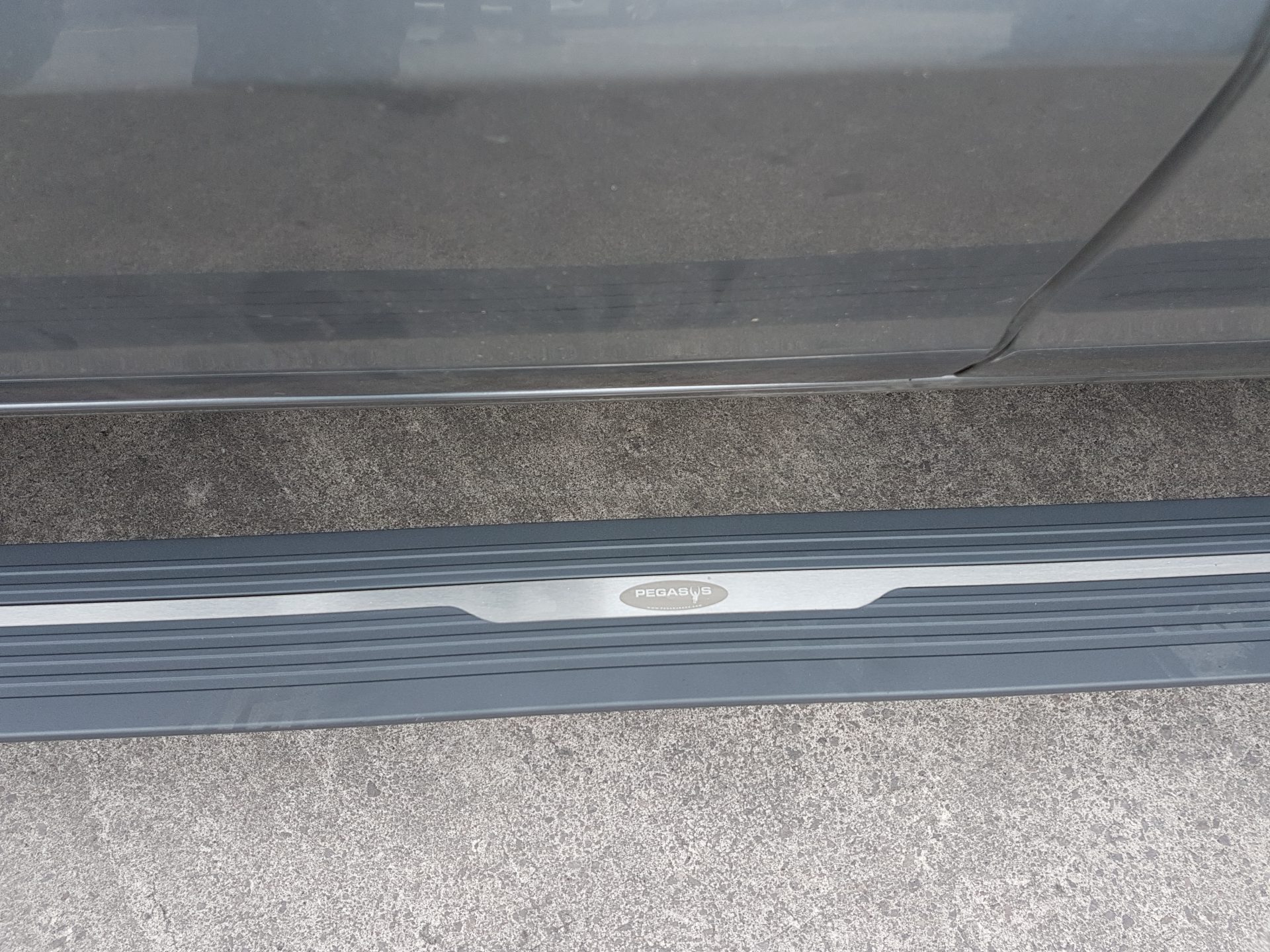 Automatic Electric Side Steps - £1485 + Vat fitted
To arrange an installation please click on the contact us button and follow the instructions
You are welcome to stay in our waiting area, where we have free Wi-Fi connectivity, Smart TV , range of magazines, workshop viewing area and hot drinks. 
Installation takes approx 5h
Pegasus Automatic Electric Side Steps Features As Standard
Pegasus designs, manufactures and only sells it own exclusive quality products. We are proud to be simply the very best in this specialised market. We are recognised worldwide as the leading innovator in the design and manufacture of the latest pickup accessory products and all backed by a brand name you can trust and a leading world class warranty.
All Pegasus products are now fully compliant with the very latest Government Test Approval Scheme and carry Certified accreditation. All Pegasus products are now Department of Transport Approved.
Click here to visit PEGASUS website