Interior LED Mood Light Kit VW T5 T6
Style the inside of your T6 with interior LED mood lighting. Lights can be dimmed by the use of your vehicle's interior light dimmer. This product illuminates the footwell and doors.
We can hook up footlights so they turn on/off with a low beam . Door cards illumination can work the same way or with ignition on/off plus additional on/off switch to turn it off at your will.
Alternatively we could connect the door illumination to your leisure battery and fit a on/off switch so you could have them on/off at any time and even when you are camping . However this option would be a bit extra depending where your leisure battery is.
This kit is available in blue , white or red.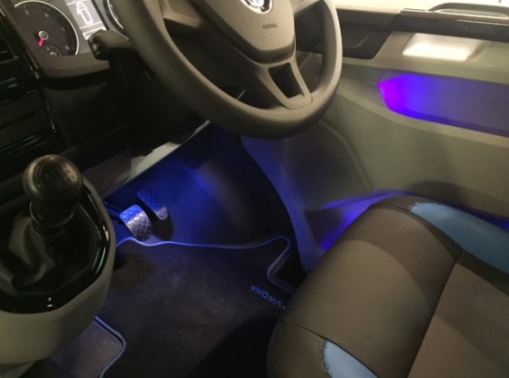 Interior LED Mood Light Kit VW T5 & T6 £283+vat fitted
To arrange an installation please click on the contact us button and follow the instructions
You are welcome to stay in our waiting area, where we have free Wi-Fi connectivity, Smart TV , range of magazines, workshop viewing area, comfortable sofa and hot drinks.
Please note - The VW Holograms lights are not included and are available at £120+vat extra , please follow this link for more info VW T6 MOOD LIGHTS MODE
Installation takes approximately 2h